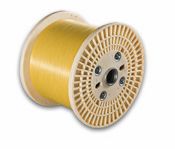 Aramid FRP (KFRP or AFRP) is a new kind of non-metallic strength member for optic cables.
1.Product sizes: Diameter 0.58mm
2.Materials: Aramid roving and resin
FEATURES:
1.Light weight and high strength. KFRP has low density and high strength. Its ratio of strength/weight and ratio of modulus/weight are higher than those of steel wire and GFRP;
2. Impact strength and break resistance. KFRP has much higher tensile strength (≥1700MPa), so it has much higher impact strengthn and break resistance.
3. KFRP has excellent flexible and compact properties, so it is special for the indoor cable layout.